In need of specialized periodontic care? Call Kevin M. Brown DMD & Associates today at (978) 772-3747 to schedule an appointment at our Ayer, MA office!
Periodontics in Ayer, MA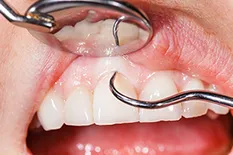 Periodontal disease is the number one problem for adults. However, with the help of a periodontist proper treatment can help eliminate periodontal disease. A periodontist is a dentist who specializes in the prevention, diagnosis, and treatment of periodontal disease, and the placement of dental implants. As experts in the treatment of oral inflammation, periodontists are able to diagnose and treat periodontal disease with the latest techniques and can even perform cosmetic periodontal procedures. Similar to a periodontist, periodontics is the branch of dentistry that deals with the study and treatment of periodontal disease.
Regular dental visits allow your dentist to examine your gums and provide preventive care to keep your gums healthy. But if you need further treatment, a periodontist is available to treat your gums. A periodontist will treat more problematic periodontal cases, such as those with severe gum disease or a complex medical history. They offer a wide range of treatments, including scaling and root planning, or root surface debridement. Surgical procedures are also available for those with sever gum problems.
It is important to visit a periodontist if you have periodontal needs that cannot be managed by a general dentist. With the growing connection between periodontal disease and other chronic diseases of aging, periodontal treatment by a periodontist is more important than ever before.